Part 1
Buying tools and toolkits for classic / vintage vehicles
I have been prompted to write these notes by the increasing numbers of fakes and forged tools and toolkits for sale on Ebay and elsewhere. (see note 3)
This is not a list of sellers who regularly sell "items of dubious authenticity" (they know who they are) but a set of basic guidelines for those enthusiasts who are trying to complete the restoration of their vehicles or machines.
If you are trying to buy the complete and original toolkit for your motorcycle / car / tractor you will be very lucky as only a few original un molested kits survive and are offered for sale, most of the kits you will see are built up from a collection of tools which are sometimes correct but more often a figment of a sellers imagination, here's how to tell the right one to spend your money on,
"buying the wrong tools is a waste of time and money"
Research, join an owners club, they have vast amounts of information available.
Research, use the internet, there are loads of forums and websites which deal with marques and models, there is almost always at least one tool expert.
Research, you NEED a parts list or drawing, there are a lot available on the internet, they are not always correct but give a very good indication of what the tool or kit should look like and consist of, watch out for forged and altered parts list pages on a listing (it is amazing the lengths some people will go to, to give their items credence) beware of so called "complete kits" they very rarely are complete in every respect
Research, Who are you buying from? Private individual or dealer, on Ebay dealers MUST be a registered business, they MUST not masquerade as private sellers, (see note 1,) if you are buying from a private seller then they may or may not know much about what they are selling hence the need for research, if you are buying from a genuine dealer then they should know something about the items that they are selling also if buying from dealer it should be possible to talk to them on the telephone but if spending a lot of money then at least get them to verify the authenticity of the item in an email (ebay message)
What are you buying? Check that the pictures of the tool or toolkit match the description and are not re used pictures from another listing or website, that any "unused" or "NOS" are not modern recently made copies, the manufacturers of these sometimes mark them with a part number (rarely found on originals, Vincent K1 and K3 being exceptions) or "MADE IN ENGLAND", flat plate spanners are being reproduced for Triumph, Vincent and Velocette toolkits, (these tools are very good laser cut copies) a reputable dealer will mention any reproductions in his listing, another commonly forged item are the Jenbro box spanners used in the Vincent toolkit and the small Eagle Brand spanner from the same kit (a cut down double open end spanner is a common and easily spotted item).
Beware of false provenance (see note 2), just because an item was so say bought / found in the area of a vehicle manufacturer does not mean it has anything to do with that manufacturer, unless there is documentary proof its just window dressing as is the repeated mentioning of a manufacturers address, not provenance just window dresssing
Ask questions of the seller, make sure you get an answer by email not on the phone just in case things go wrong, ask for extra pictures and measurements if not sure.
"Its only original once" decide if you want concours, working or original, if buying a kit or part kit decide on the toolroll or case if going for a concours kit then you will probably have to settle for a very good copy of the original (do make sure that a seller knows what the original looks like and it is not a figment of thier imagination), a working or original kit is best in a roll that has some age i.e. original . The tools use the same criteria as above, concours should be as they left the factory and that does not mean "shiny shiny" very few were that, working will have a few blemishes and original should be as found, be prepared to replace half of the tools to achieve the condition that you want, most sellers seem to over polish and tart up tools, far better to let the new owner decide the level of finish.
Watch out for sellers who sell the same kit time and time again, use the "completed listings" feature to check thier previous listings, be suspicious of them.
It has been said "that is takes a faker to spot a fake, otherwise how else would he know", sorry but that is a ridiculous statement, the experts on the Antiques Roadshow would take issue with it as would I, we can spot fakes/forgeries because we have years of experience and have seen and handled the genuine items many times, Sadly there are unscrupulous traders out there who take advantage of buyers lack of knowledge but do not be discouraged not all dealers are bad but all it takes is a few rotten apples to spoil the barrel. For the benefit of those rotten apples below are some definitions that they might find useful
Fake: an object that is made to look real or valuable in order to deceive people:
Forgery: Forgery is the process of making, adapting, or imitating objects, statistics, or documents with the intent to deceive or earn profit by selling the forged item. it is a criminal offence and morally reprehensible
Fraud: In law, fraud is deliberate deception to secure unfair or unlawful gain. Fraud is both a civil wrong (i.e., a fraud victim may sue the fraud perpetrator to avoid the fraud and/or recover monetary compensation) and a criminal wrong. If you need to report a suspected fraud then this Google this website it may be useful :- actionfraud
Here is what Ebay says about the need to register as a business (most reputable dealers are registered)
Note 1
"You should register if you:
sell items that you've bought to resell
make items yourself and sell them, intending to make a profit
are a Trading Assistant
buy items for your business
The Unfair Commercial Practices Directive (April 2008) makes it an offence in the UK for a business to falsely represent itself as a private individual. So if you are misleading potential buyers into thinking that you are a private individual when you are in fact a business seller (ie: by not registering as a business seller with eBay), you will be breaking the law."
Note 2
Provenance is defined as the place where something originally came or began, or a record tracing the ownership history of certain items that helps to confirm their authenticity and value.
Note 3
The Vintage Tool Company has been trading on Ebay since 2002, we also trade at various autojumbles (including Beaulieu) and have our own specialist website, we are professional full time tool dealers and have been consulted by several auction houses where we have advised on authenticity
Note 4
There is only ONE "The Vintage Tool Company" others may TRY to imitate us by using a similar name but our reputation has been built up over 13 years, we are the original and still the best source of tools and information, please also note that an individual calling himself " Real Vintage Tool Company" has NO connection with us in any way, shape or form and is not a real business either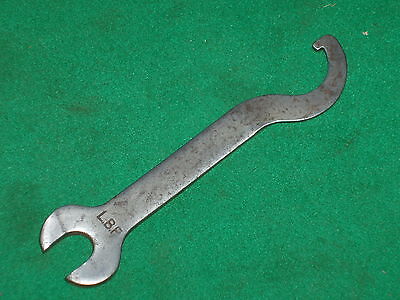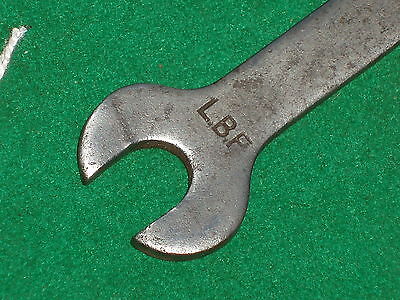 Try adjusting a rear shock with this? looks similar, see below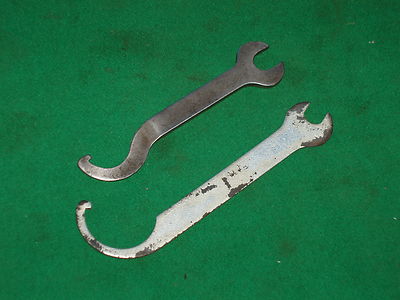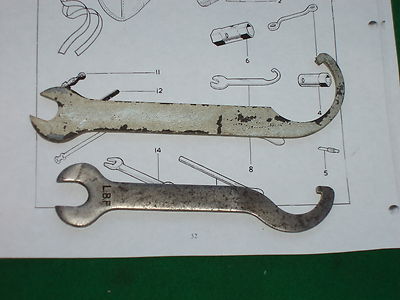 Sturmey Archer and BSA 68-9462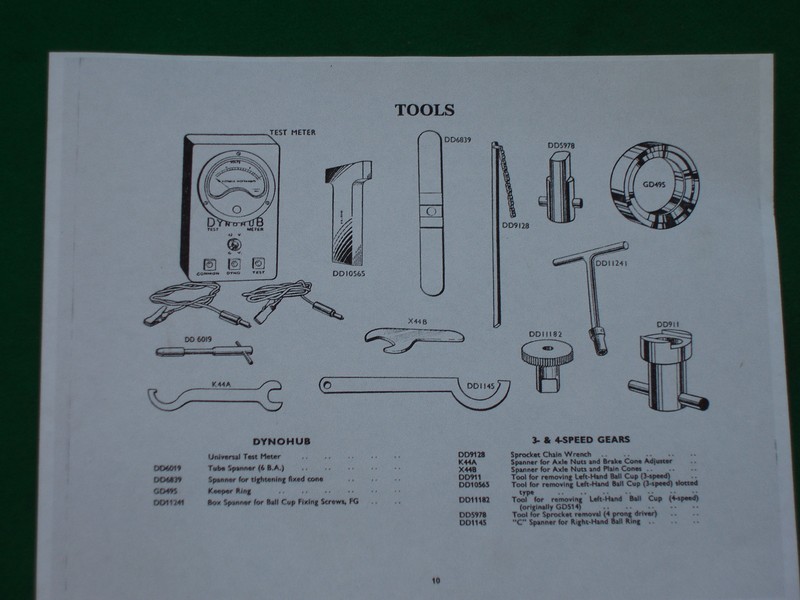 Latest repro's
Jaguar "Winged Logo" tyre gauges, check carefully and ask seller if genuine (Jaguar Cars Ltd are investigating as are Trading Standards)
Jaguar screwdrivers, easy to spot but be carefull if they are part of a kit
Dunlop tyre gauges engraved with anything and everything = worthless
Motorcycle tyre pumps / inflators, sometimes marked with new markings, repros cost about £20 and are easy to find and spot so paying loads for a repro is silly